The smart home products from Ikea are good for that
Switch on all lamps at the push of a button, dimmed and in your favorite colors. In addition, your favorite music automatically plays from the streaming speakers. This is easy in the smart home. The necessary technology no longer has to be expensive. At Ikea there are smart lamps, speakers and accessories for little money. But what good is the system from Sweden? The Ikea Smart Home at TECHNOLOGY BUTTON in check.
This is how Ikea Smart Home works
In the furniture stores and in the Ikea online shop, there is the same thing as with many other smart home providers – only much cheaper. To get started, there are smart lamps from an affordable 8 euros. Simply screw it into the lamp base and select the appropriate brightness and colors using the remote control or smartphone app. It couldn't be easier. The remote control is absolutely necessary to add devices to the Ikea Smart Home, regardless of whether you use it after setting it up. Therefore, they are often available in sets with other products.
If you want more than just turning the lights on and off by remote control, you need a control center for smart home control. This so-called gateway costs 30 euros at Ikea. It connects to the WLAN router via LAN cable and acts there as an interpreter. In this way, the smart components from Ikea that transmit using the Zigbee standard can also be connected to systems and devices from other manufacturers, some of which use other wireless standards.
The furnishing giant is continuously expanding its own system. In addition to more lightbulb variants, ready-made lamps, sensors, switches and radio blinds have long been added.
Also interesting: OnePlus Band: Inexpensive fitness tracker presented
Networked lightbulbs Tradfri for the Ikea Smart Home
Smart lamps from Ikea can be recognized by the product brand Tradfri. The range currently includes ten different models at prices from 8 to 20 euros. In addition to bulbs with white shades in the shape of pears and candles, Ikea also has a transparent pear in the trendy retro look with an imitation filament in its range. With E27, E14 and GU10, the selection covers the most common sockets.
The cheaper models shine in warm white with a color temperature of 2700 Kelvin. Other models can display a larger part of the white spectrum and switch between warm and cool white at the push of a button. Color bulbs are available for 20 euros, from which nine full colors can be extracted by remote control and 20 full colors by app.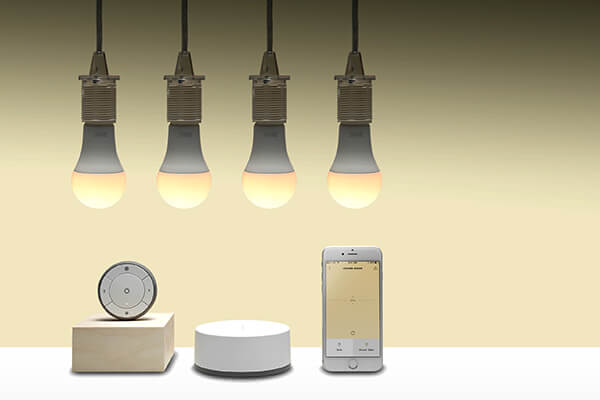 An unlimited choice of colors from the entire RGB spectrum is therefore not possible. You also have to do without pre-fabricated light scenes with color gradients across lamps, as with Philips Hue. After all, all lamps can be dimmed continuously. In addition, the selected settings for all lamps in a room can be saved and recalled as a "mood" at the push of a button. And if you want to be woken up by the light or switch it off automatically when you are out and about, you can use the app to activate a corresponding schedule, called a timer.
Ready-made lamps Floalt, Omlopp, Irsta and Strömlinje
In addition to exchangeable light sources, finished lamps with built-in light-emitting diodes light up the Ikea Smart Home. The flat panels from the Floalt range decorate walls and ceilings. Depending on the size, they cost 70 or 130 euros.
The Omlopp strips and spots as well as the Irsta and Strömlinje panels bring light under wall cupboards for 12 to 40 euros each. The cabinet lights from the Urshult and Lindshult series illuminate the furniture from above for 20 to 25 euros per spot. They supply power to transformers and power cables that can be bought separately. All ready-made lamps shine in the white spectrum, there are no RGB-color variants.
The prefabricated lamps, like the exchangeable Tradfri lamps, can be controlled by remote control or app, given time schedules and added to mood scenes. They are cheaper than comparable ready-made lamps from Philips Hue, but occasionally have to struggle with quality problems. The Floalt panels attract negative attention both in our test and in user reviews due to annoying humming tones.
Smart speaker Symfonisk in the Ikea Smart Home
Ikea celebrated its premiere in wireless speakers with Eneby in 2018 . The 90 euro box can be fed with music via Bluetooth. But that's not enough to be "smart". Instead, this description applies to the two Symfonisk loudspeakers that have been providing sound to the Ikea Smart Home since 2019.
They were created together with Sonos, the specialist for WLAN speakers. He took care of the sound and radio technology, Ikea took care of the design. That is very smart. The bookshelf speaker for 100 euros can be converted into a bedside table using a wall bracket. The table lamp model for 180 euros combines a loudspeaker with a lamp base and housing. You haven't actually seen anything like that before.
The technology inside is similar in both cases to that of the Sonos Play: 1, which can be had for 170 euros. This allows the Symfonisk boxes to be seamlessly integrated into the Sonos multiroom system. So far, the Sonos fleet cannot be expanded more cheaply. In terms of sound, the two speakers come close to the original. Only the bass doesn't go that deep.
Initially, the speakers could only be controlled via the Sonos app, but some control functions are now also available in the Ikea app. Those who prefer physical control can use the puck-like Symfonisk remote control for 15 euros. It can be used to zap through the active Sonos playlist and change the volume.
Feeding the wireless speakers with music from various streaming sources in this way and integrating them into smart home scenes is no problem. The lamp socket of the table lamp speaker is not inherently smart. However, it can be fitted with any smart light source – whether from Ikea or another brand.
Also interesting: That's why you should never charge your phone in bed
The radio roller blinds Fyrtur and Kadrilj
With Fyrtur and Kadrilj, the furnishing company has two radio-controlled and battery-operated roller blinds for the Ikea Smart Home up its sleeve. After a long announcement, they are now easily available online and in furniture stores at prices between 110 and 170 euros. Kadrilj is opaque, but lets some light through, while Fyrtur completely darkens the window. Both models are made of gray fabric with a length of 195 centimeters and are available in widths from 60 to 140 centimeters.
They can be turned up and down manually using the remote control supplied. Alternatively, a voice command with Amazon Alexa serves the same purpose. Integrating them in scenes with other devices is also possible via Alexa or in the Ikea app. Interaction with Apple's HomeKit system is now also possible. After Ikea had to postpone the necessary update due to problems in Europe, the furniture giant finally rolled out an improved version at the end of January.
Matching switches in the Ikea Smart Home
If you do not want to constantly use the smartphone app called "Ikea Home Smart", you can use physical switching accessories instead. It can easily be placed on a table on the wall. Cables are not required, the accessories draw their energy from batteries.
The Tradfri remote control is the obvious choice at a price of 10 euros. With it, individual lights or groups of lights can be switched on and off, dimmed and tinted in your favorite color. Alternatively, the Tradfri dimmer switch for 6 euros is sufficient to only vary the brightness of the smart light. If the light should go on and off without your own intervention, the Tradfri motion detector does this job for 10 euros. More complex actions can be triggered with the shortcut button for 6 euros. One press of the radio switch and the light and a loudspeaker go on while the radio blinds roll up at the same time.
A wireless adapter plug for around 10 euros is not yet available in Germany. It can be used to "make smart" devices that do not have a radio chip themselves. This means that floor lamps, for example, can also be controlled using an Ikea app or remote control whose housings are too small for one of the smart lamps. If you are on holiday in Austria or the Netherlands, you can get the smart socket there in the Ikea furniture stores.
"Ikea Home Smart" app: control center on the smartphone
Ikea Smart Home? No, the furnishing group's control app is actually called "Ikea Home Smart" and can be used free of charge on smartphones with Android and iOS. If you only want to control lamps by remote control, you only need them for setting up and nothing else. Again, the application is indispensable for complete house control in the Ikea Smart Home.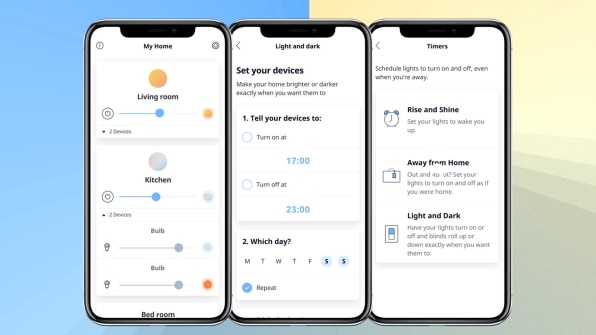 The app sorts all Ikea components clearly according to rooms. This means, for example, that several smart lamps can be grouped and programmed with lighting moods. The app also enables switching accessories such as the shortcut button to be assigned tasks. Those who like to wake up with light can use the app for schedules. It also serves as a stripped-down loudspeaker remote control. However, it can only control the active playlist that was previously selected in the Sonos app.
App still has gaps
Ikea's app therefore already fulfills many common functions, but also has a few gaps. So far, the app has not been able to remotely access the Ikea Smart Home outside of WiFi reception. In addition, the scene control and home automation are still quite narrow.
Fortunately, the Ikea system can be integrated with the app in other platforms that can do all of this. You can choose from Amazon Alexa, Google Home and Apple HomeKit. The prerequisite is the Tradfri gateway, which acts as a radio bridge between the systems.
Then the Ikea products appear in the apps of the respective providers and can be controlled in different ways. The connection enables the Ikea Smart Home to be operated by voice and controlled together with devices from various other brands. At Amazon this interaction is called "routine", at Google "processes" and at Apple "scenes". Apple's home app also offers an extensive range for home automation, simply called "automation". This can be used, for example, to automatically switch on the smart light from Ikea as well as the radiator thermostat from another brand and a Sonos loudspeaker when a sensor or GPS module detects that you are entering your home.
Conclusion on the Ikea Smart Home in the check
The Ikea Smart Home enables intelligent home control for everyone. Because compared to other brands, the technology is affordable and can be tried out directly in furniture stores.
The range for the Ikea Smart Home is still comparatively small. The focus is on smart lighting, complemented by sound hardware and electric roller blinds. If you want to network all areas of your own home, you have to look elsewhere. Also, given the low prices, you can't expect to get the best of the best. Other brands offer more features. In addition, the app operation from Ikea is still expandable.
However, the installation is sometimes a little more tedious and laborious than with other manufacturers. With the included leaflets and the app instructions, Ikea could do a little more trouble. But the ratio between price and performance is unbeatable.
Ikea is still at the beginning when it comes to furnishing the intelligent home, but it is getting better and offers more and more choices.